Explore Eight Fine-dining Restaurants in the Tribeca Area That Carrying Michelin Star Ratings for a Unique and Unforgettable Dining Experience.
Are you considering moving to the Tribeca area, or do you have New York real estate in the Tribeca area that you're considering putting on the market? As any Tribeca realtor will tell you, one of the largest draws of any area in New York City is the proximity to great restaurants. The good news is, there are plenty of restaurants nearby that have been awarded the coveted Michelin star status. Once you know where they are, you can make plans to visit them when you move to the area or use them as selling points to effectively market your Tribeca property. Here are a few of the best.
Jean-Georges
Located just a 20-minute drive from Tribeca at 1 Central Park West,
Jean-Georges
had a two-star Michelin rating in 2020. Opened in 1997, Jean-Georges is the epitome of Chef Jean-Georges Vongerichten's restaurant offerings. The menu consists of Asian, American, and French fusion dishes served in an elegant, light-filled atmosphere with breathtaking views of Central Park. The constantly changing menu features fare that is always in season and always prepared perfectly. If you're planning a dinner at Jean-Georges, your Tribeca realtor will remind you they require men to wear jackets, and that jeans and sneakers are not allowed.
Atera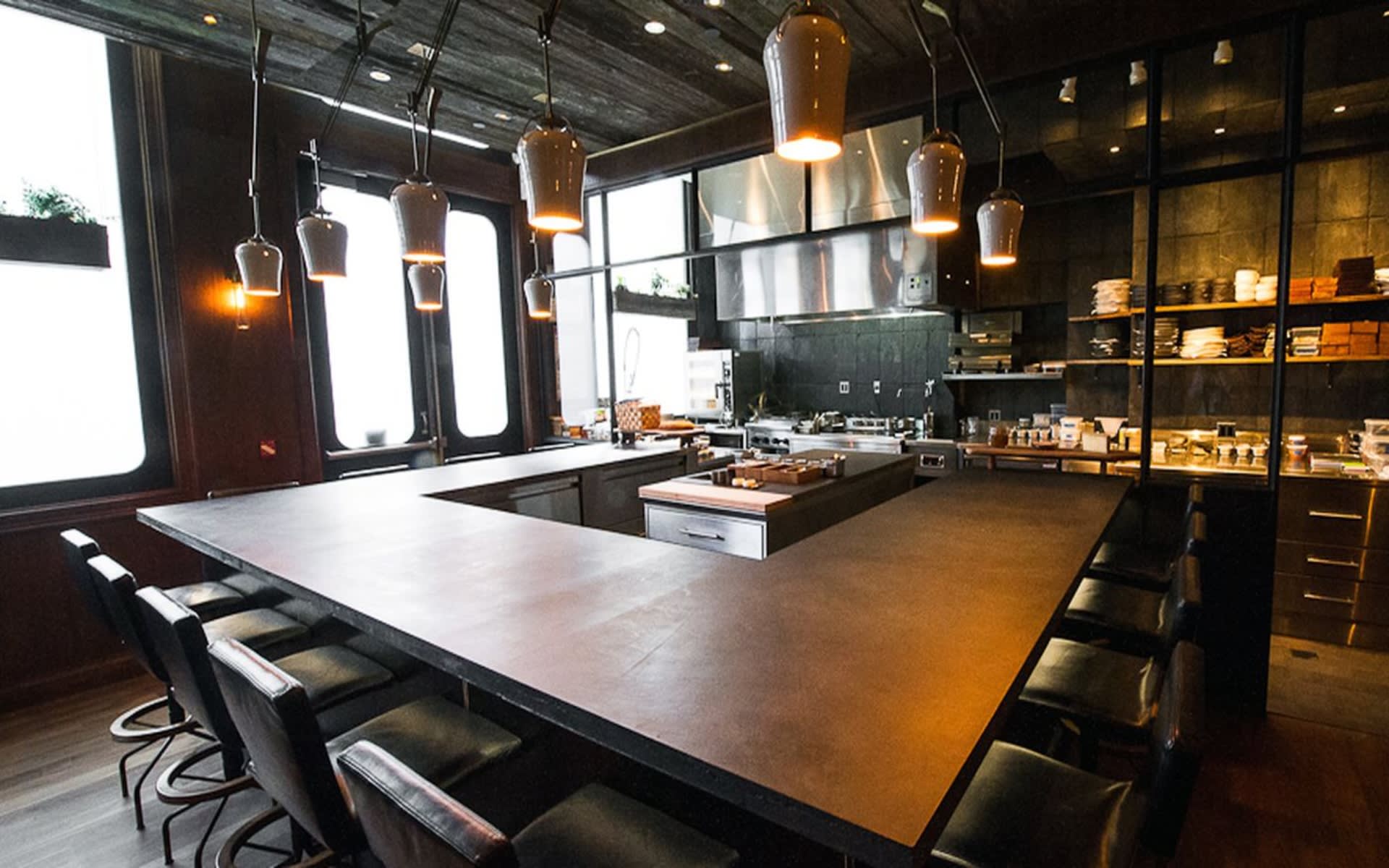 Credit: NY Eater
Located right in Tribeca at 77 Worth St.,
Atera
has been awarded two stars by Michelin. With an ever-changing menu, Atera strives to give diners an immersive experience with their delectable tasting menu. Choices include a tasting menu, a wine pairing menu, and a temperance menu for those with a smaller appetite (or budget). With a comprehensive wine list, you can create the perfect upscale experience at Atera or start your night at their companion restaurant, Farro Wine Bar, located just down the street.
Per Se
If you're out browsing New York real estate and want to end your day with a luxurious meal, stop in at Thomas Keller's, a staple of the New York City dining culture for 16 years. Located in the Time Warner Center, just a 20-minute ride from Tribeca,
Per Se
was rated three stars for 2020. Per Se offers two daily tasting menus, both nine courses, and one perfect for vegetarians. No ingredients are repeated throughout the nine courses, making for a wholly unique and educational dining experience.
Chef's Table at Brooklyn Fare
Chef's Table at Brooklyn Fare
has again been given a three-star Michelin rating for 2020 and is a short 15-minute jaunt from Tribeca at 431 S. 37th Street. A unique combination of Japanese cuisine prepared with a French technique, the 20-course tasting menu at Chef's Table features mostly fish and seafood dishes, with a bit of meat mixed in, and finishing off with a variety of delectable desserts. This experience lasts for approximately two and a half hours, so make sure you reserve enough time to relax and enjoy. Another highlight of Chef's Table is the 7,000 bottle wine cellar, so make a point to take a look around either before or after your one-of-a-kind meal.
Atomix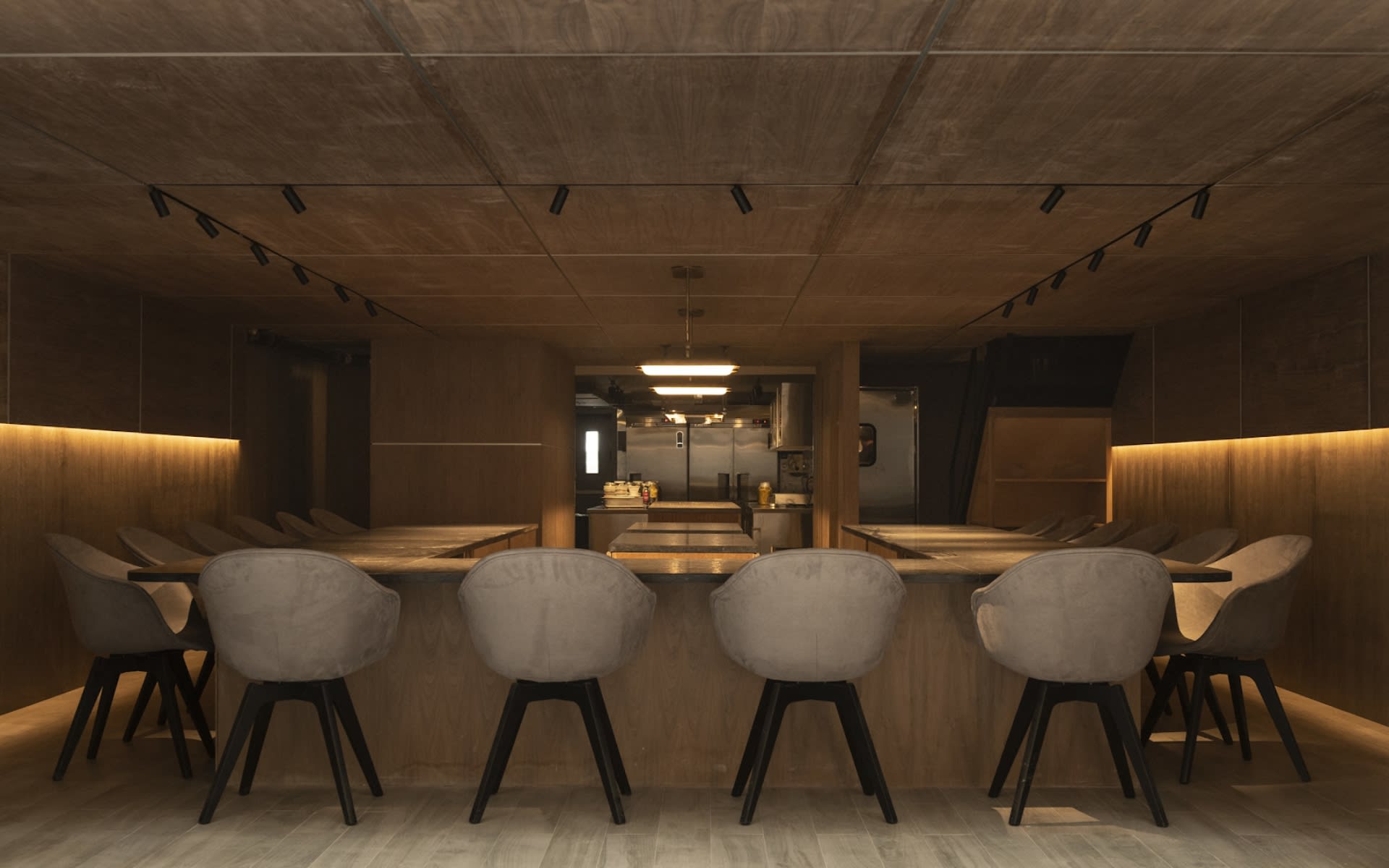 Credit: Atomix
A jump up from last year, the Korean fine-dining restaurant
Atomix
has been given a two-star rating. Located 20 minutes from Tribeca at 104 E. 30th St., Atomix has three unique options for diners: in their dining room (located in the lower level of the bi-level townhouse that is the restaurant's home), at their chef's counter, or, for those who really want to impress, with their private dining option. Both the chef's counter and dining room offers 6 pm and 9 pm seating options, both with a chef's tasting menu and beverage pairings.
L'Atelier de Joël Robuchon
If your Tribeca realtor hasn't suggested
L'Atelier
de
Joel Robuchon
for a high-end dining experience, it's likely because they've temporarily closed due to COVID. However, you should definitely put it on your list once it reopens next year. You won't have far to go to reach this two-star rated French fine dining restaurant, as it's only eight minutes from Tribeca. The restaurant is known for its dishes that combine the highest-quality ingredients with Chef Robuchon's creativity and precise technique. The modern French menu has comforting favorites as well as seasonal offerings, and the atmosphere, featuring counter seating that looks directly into the open kitchen, is dynamic and inspiring.
Le Bernardin
Credit: Le Bernardin
With a two-star rating and a short 20-minute jaunt from Tribeca,
Le Bernardin
has been delighting New York residents since the sibling owners from Paris opened its doors in 1986. Though one brother passed away in 1994, the remaining owner has worked closely with renowned chef Eric Ripert to carry on his brother's legacy. Le Bernardin's dishes highlight the simplicity and luxury of fish, and its track record tells the whole story: since opening, Le Bernardin has retained a Michelin star rating and is the only New York four-star restaurant that has maintained that status for more than three decades. Those in the New York real estate world will tell you that no trip to the city is complete without a meal at Le Bernardin.
Gabriel Kreuther
Located in the heart of Midtown Manhattan,
Chef Gabriel Kreuther's flagship restaurant
is an exciting blend of classical French and Alsatian dishes with a New York flair. This is a fine-dining experience that is both approachable and unforgettable. Choose from a tasting menu featured in the main dining area or Alsatian-inspired dishes such as homemade beignets with seasonal marmalade that are served in the walk-in bar and lounge. Whether you're craving fresh wild striped bass, a two-week aged duck breast, or a delectable roasted celery root soup, you will find that Gabriel Kreuther never disappoints.
The pandemic has shown many of us how truly important fine dining is to our lifestyles and happiness. Whether you're visiting the area with your Tribeca realtor or considering adding your home to the list of New York real estate for sale, knowing what fine restaurants are nearby can enhance your experience. Want to work with a real estate agent who knows the area from the inside out? Consider the
Elevated Advisement
team for all your New York City real estate needs.