As private air travel has soared in popularity among high net worth individuals due to the global pandemic, BLADE has distinguished itself as a leader in the sector through its unmatched level of precision, hospitality, and culture of accommodation. The dynamic brand has bridged the gap between travel and lifestyle, seamlessly elevating the travel process into a curated experience. With destinations from Montauk to Miami, BLADE's bespoke, on-demand experience has become the preferred method of travel for many of our agents and clients alike. 


1. Destinations
With destinations from Montauk to Miami, BLADE's travel routes closely align with those of Manhattan's elite who frequent the Hamptons in the summer and flee to Miami for the winter. 

This summer, however, Wall Street's weekend migration to the Hamptons has been flipped upside down. Executives who in the past remained in the city during the week and frequented their second homes on the weekends are now utilizing BLADE as an on-demand option to fly into the city and back out East once or twice a week for meetings, establishing their primary residence in the Hamptons and beyond. 

BLADE offers daily flights, seven days a week, via helicopters or seaplanes. This has helped to accommodate the significant surge in demand that has been ushered in by remote work. Regarding prices, you can expect to pay $795 per seat for a 30-minute flight to five locations throughout the Hamptons. These locations include Southampton, East Hampton, Montauk, Westhampton, and Sag Harbor. These five destinations Out East alone demonstrate the degree to which BLADE understands how valuable your time is. 

Although traveling has increasingly become a part of our lives, that doesn't mean that your travel arrangements also have to be stressful and tedious. That's where BLADE comes in. They are there to help mitigate urban travel pain points that have steadily become a regular part of our daily lives. Whether you decide to travel by helicopter, seaplane, or jet, BLADE is undoubtedly the most time-efficient and cost-effective way to travel. 
2. BLADE Client Experience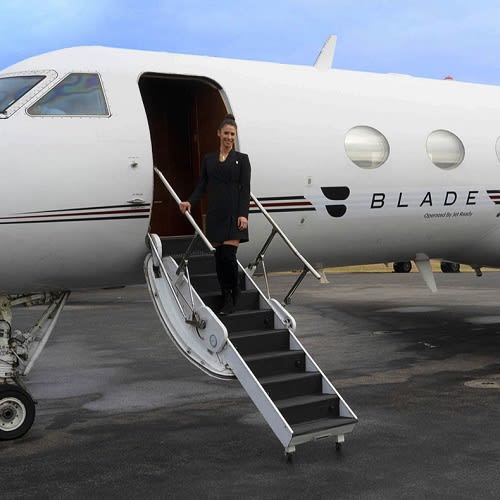 When it comes to the client experience, BLADE prides itself on being among the best of the best. The BLADE client experience is that of unmatched precision, hospitality, and culture of accommodation. Upon arrival at one of the three BLADE lounges in Manhattan, passengers will be immersed in unparalleled style and service. This is just one of the many reasons that passengers enjoy traveling on this upscale airline. 

BLADE also features iconic design as well as impressive art and amenities. Guests can choose from a glass of Casa Dragones tequila or a glass of wine from partners Nino Negri or Inspiration Rose to help the time on the flight pass. The experience continues in flight with the top-notch BLADE client experience attendants, who are all impressively dressed in top designers from Tamara Mellon, co-founder of Jimmy Choo, to Manhattan's very own SJP. When you have a question or concern or perhaps find yourself in need of a drink, the in-flight attendants are there to guarantee their guests have a relaxing flight. They strive to ensure a bespoke experience complemented by caviar and cocktails. 

An additional perk of flying with BLADE is travel flexibility — guests can take advantage of easy, app-based booking for scheduled, crowdsourced, and private flights. You'll also be sure to love the chic, upscale lounges available in NYC and other key destinations. If you have any problems with your flight, you can refer to Flier Relations, which is available 24/7 to assist you with booking, questions, or any issues that may arise. It's no wonder BLADE is a leader in creating a client experience like none other. (Image Credit: BLADE)


3. BLADE Lifestyle Brand
BLADE also offers a lifestyle brand with curated merchandise exclusively for the BLADE traveler. Browse the online store to find all the essentials for any traveler, from branded Rose sippy cups to Hamptons beach totes to BLADE caviar service, plus plenty more. Take a look and see if there's something for you in the online store. You can also give your loved ones the gift of BLADE through a flight gift certificate. This is the perfect way to treat your friends or family to an unforgettable experience. After all, we all deserve to experience the epitome of airline luxury.
4. BLADEone
BLADEone is a seasonal scheduled jet operating by-the-seat flights between New York and Miami during high season, between the months of November to mid-April. It operates between Westchester Airport in New York (15 minutes from BLADE lounge West to planeside by helicopter) and BLADE lounge Miami at Opa Locka Executive Airport. Opa Locka Executive Airport is the closest private airport to Downtown Miami and South Beach, which puts you close to all the action. Upon departure, you will depart directly from BLADE Lounge Miami before landing at BLADE's Westchester Airport Lounge. There, you can either disembark or easily connect to a 15-minute helicopter transfer back to Manhattan.
Although BLADEone is a commercial-sized jet, it has been retrofitted for only 16 seats with eight passengers on each side of the fuselage. This is vastly different from the expected 65-person capacity of the Bombardier CRJ 200 jet. There are plenty of perks that come with traveling on BLADEone. For instance, the reduced seat density ensures a private experience for each and every passenger. Each seat is both a window and aisle seat, giving you plenty of space to sit back and relax. 
Amenities include full in-air service by two BLADESKY cabin attendants, as well as preloaded tablets with first-run movies and in-flight dining from restaurant partners (including caviar service from Pearl Street Caviar). Once onboard, every passenger receives a curated tote bag filled to the brim with personal care products and merchandise from BLADE's brand partners. 
Dogs are also welcome on BLADEone, so you can bring your furry four-legged friend along for the ride. BLADE's pet policy seeks to ensure a safe and secure flight for you and your pets. Please be sure to alert BLADE Flier Relations when you are planning to travel with your pet or if you have any pet allergies. Additionally, pets must be approved by a member of the BLADE team.  
5. BLADE for Business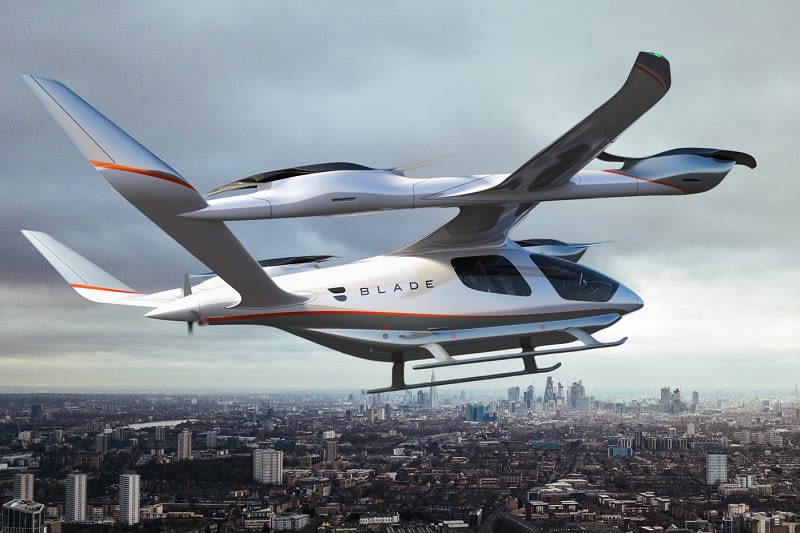 Image Credit: BLADE
When it comes to your next business trip, there are plenty of reasons to book with BLADE. Whether you need to charter or design a corporate partnership, BLADE for Business has plenty to offer. BLADE for business also understands that leisure is necessary, whether you're planning solo travel or a getaway retreat. 

BLADE for business partners not only get corporate rates on business travel, but they also enjoy numerous leisure benefits for employees. Destinations include places such as the Hamptons, Nantucket, Miami, Napa, and more. BLADE has a vast network of resorts and golf properties, enabling partners to unlock a unique ability to fly directly to the course or resort and land on-property. Talk about a way to impress your guests! 

The seamless end-to-end precision necessary for executive travel is the standard for all BLADE flights. Through BLADE for Business, you can entertain clients, employees, or even yourself with this memorable experience.
6. BLADE and the Environment 
It goes without saying that BLADE is the future of urban air mobility. One of their top goals is to help passengers travel safely while maintaining the highest level of respect and the lowest possible impact on the environment. Their long-term goal is to make aviation more accessible by preparing the adoption of EVA (Electric Vertical Aircraft) — quiet, carbon-neutral, and cost-effective aircraft that is in the process of being developed by their investors and partners. You can learn more about Urban Air Mobility here.

Until BLADE services have fully transitioned to carbon-zero EVA, the organization continues to purchase offsets to counteract the carbon emissions generated by their urban air mobility services. This helps them to remain as carbon neutral as possible. And that's not all BLADE is doing to go green. BLADE's business model enables travelers to share the aircraft rather than traveling alone — another step forward in the fight against climate change. In many instances, this option also makes air travel more fuel-efficient than simply riding in an SUV alone. 

BLADE is extending you a personal invitation to fly to the future today. So, what are you waiting for?